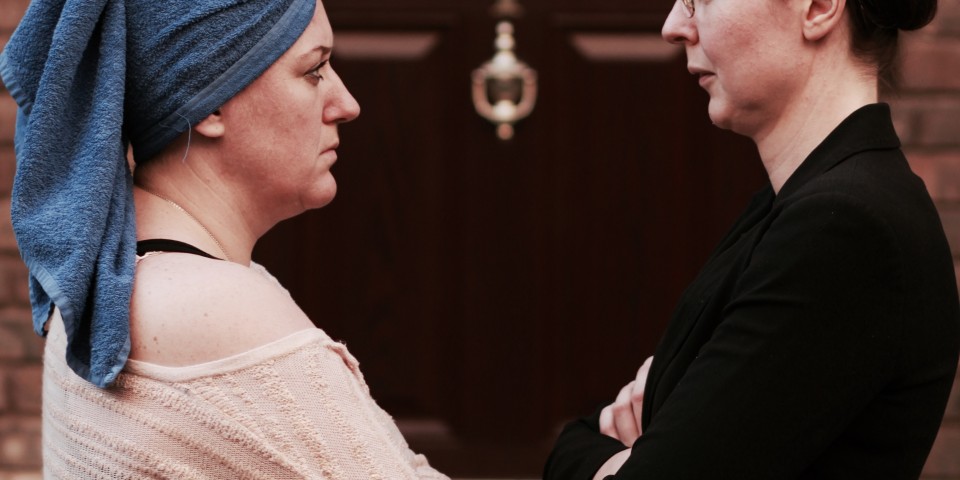 Review of Henna Night Originally from Sardinesmagazine.co.uk
Sardines' first-ever visit to the MAP Studio Cafe in North London – a gloriously tucked-away Bohemian corner of Camden – sees Amy Rosenthal's two-hander, Henna Night, intimately performed by Mind Engagement Productions this week showcasing the talents of Zoe Cunningham and Amy Leigh-Matthews… about as close-up and personal as you'll ever get.
The studio above the MAP Cafe is probably the perfect setting for Rosenthal's broken-hearted tale. Set in a dingy bedsit complete with screwed up tissues, fag packets, empty pizza boxes and discarded wine bottles, it's a sight that Tracey Emin would be proud of – and, sitting in the front row, well within sniffing distance, I can confirm the uncomfortable scene is authentically assembled.
Judith has been dumped by Jack. She's hurting. Her heart is broken. She's definitely not over it. Meanwhile, Jack has moved on and has settled down with new girlfriend, Ros. After Judith leaves a drunken voicemail on Jack's answer-phone one evening claiming how their break-up has driven her to buy some razor-blades and that she also thinks she might be pregnant, her doorbell rings. Could it be Jack, begging to get back together? When the annoyingly chirpy teacher, Ros, walks in to 'discuss' the phone message it's all Judith needs – especially as she's right in the middle of dying her hair!
Amy Leigh-Matthews gives us a wonderfully down to earth and joyfully sarcastic Judith, who somehow manages to look completely at home in her new grotty surroundings… her leopard-skin leggings and bare feet complementing the black vest beautifully. She's obviously not expecting guests. In complete comparison, having come straight from work, Zoe Cunningham's Ros is strikingly formal and immediately conveys a polite disgust (and disbelief) at Judith's abode – tidying away 'contaminated' tissues and rubbish at arm's length and with a screwed up nose every time Judith leaves the room.
The two opposite personalities play off against one another perfectly creating some very funny moments. But Leigh-Matthews makes sure we never forget the heartbreak Judith still feels, and I loved the moment when she even affords a satisfying giggle when Ros admits to her that none of Jack's friends have taken to his new woman. One gets the immediate impression that out of the two it's Judith you'd probably choose to go out drinking with.
In a brave move Cunningham embraces Ros's Aberdeen accent with real confidence (think Lorraine Kelly), which further separates the pair and goes a long way to giving Ros a slightly clipped air of superiority. Why has she come around? It becomes apparent, as the scene progresses that the leggy well-dressed professional is actually pretty insecure, and the 'visit' is not only to find out if Judith really is pregnant as stated in her message (Ros has brought two test kits with her), but also as an excuse to make sure this ex-girlfriend remains the 'ex-girlfriend'. Inevitably the two women end up developing a fondness for each other with Ros even rinsing Judith's hair by the end (she's told Jack she's choosing a wardrobe in IKEA).
It's testament to both actors, and director Mairéad Reynolds, that the audience follow the pair's journey with fascinated interest and I look forward to seeing more from Mind Engagement Productions in the future.