MAP Recording Studio is a unique, creative recording studio in Kentish Town – a stones throw from Camden Town, London. The studio offers high quality recording studio services reasonable rates, an ideal space for band recording, mixing, production, voice overs and live events recording. We aim to provide a comfortable, musician-friendly environment and a warm, creativity-nurturing atmosphere.
The studio has a great mix of classic analogue gear and modern digital equipment, based around a 44 channel analogue desk and Pro-Tools HD. We have a wide range of high quality microphones, classic outboard, analogue synths and fx units as well as various instruments and noise making machines – everything you need to make a great recording. The studio consists of a comfortable control room with a separate live room attached, suitable for vocals and big enough for recording drums. We also have a larger recording space upstairs that doubles as our venue and allows for studio-quality recording of gigs and events. The space can accommodate large bands, choirs and string sections, it also makes a great filming and recording of promo / music videos.
MAP Studio was founded in 1990 and over the years has played host to artists such as Skip Mcdonald, Roots Manuva, Miss Dynamite, Dawn Penn, Jah Wobble, Barry Ford, The Beat, Skinnyman, N-Dubs and Junior Delgado.
The MAP café serves as a great area for studio users to take a break, grab a coffee or beer and sample some delicious homemade cooking.
You can find us in on the corner of Grafton and Inkerman Road at the rear of the Map Studio Cafe, between Camden Town and Kentish Town. Our closest station is Kentish Town West overground (5 min walk). Kentish Town tube is a ten minute walk.
See below for further details.
Click here for images of the studio.
Equipment
Console / Recorders
Amek Big by Langley 44 channel analogue desk
Mac Pro 3.3 Ghz Quad-Core 16GB RAM
Avid Pro Tools HD Native 16 I/O
Tascam 32-2 1/4 inch tape recorder
Software
Pro-tools  11
Plug-ins:
UAD Analogue Classics
UAD Neve 33609
UAD Precision Limiter
UAD Studer Tape
UAD EMT 140 Plate
UAD Little Labs IBP
Sound Toys complete
Waves Renaissance
Antares Auto-Tune
Monitoring
B&W Matrix 805 w/ Bryston 3b power amp
Yamaha NS10M
Event 20/20p
Beyer Dynamic DT100/770 headphones
Microphones
AKG C414 EB
AKG C414 B-ULS
AKG C418 x 3
AKG D112
AKG D190
Beyer M201
Beyer M160
Calrec CM1051c x2
Coles 4038 x2
Crown PZM
Gefell MV692 /  UM70
Gefell/RFT DM622
Groove Tubes MD2 valve mic
Heil PR40
Line Audio CM3 x2
Line Audio OM1 x2
Neumann U87
Oktava MK12 x 2
Sennheiser MD421 MK1  x 3
Sennheiser MD431 MK1
Shure SM7b
Shure 585sb
Shure SM58 x 3
Shure SM57 x 3
Sub Kick Mic (Celestion speaker)
Preamps / Dynamics / EQ
Neve 1073 DPA x2 pre
D.A.V.  BG1u x2 pre
Focusrite ISA 828 x8 pre
API 560b EQ
Lindell Audio PEX EQ
SVA Red Sun God stereo EQ
Orban 622b Parametric EQ
Joemeek Twin-Q dual channel strip
Warm Audio WA76 compressor
Lindell Audio 7x FET compressor
SVA TG12413 dual EMI limiter
TK Audio BC1-s stereo compressor
DBX 160x compressor
Valley People Dynamite limiter/expander
Outboard Effects
Lexicon PCM 70
Lexicon PCM 41
Roland RE-301 Space Echo
Yamaha SPX 990
Furman RV1 Spring Reverb
Keyboards / Synths / Drum Machines
W.Hoffmann Upright Piano
Fender Rhodes MKII
Hammond Organ (F2000 with built in Lesl
Crumar Stringman (70's analogue string synth)
Yamaha DX7 MK1 (classic FM synth)
Roland JX8P (80's analogue polysynth)
Roland SH09 ( 70's analogue monosynth)
Korg X5D
Casio CZ1000
Yamaha Portasound
Boss DR-55 analogue drum machine
Roland R-8  w/808/ethnic/mallet cards
Instruments / Amps / Toys
Sonor Delite all maple drum-kit (22, 10, 12, 14)
Zildjian/Murat Diril cymbals
Ludwig 400 Supraphonic snare drum (60's)
Miscellaneous percussion
Fender USA Telecaster
Fender Deluxe Jazz Bass
Fender '85 guitar amp
Roland Jazz Chorus JC160 2×10 (70's)
WEM Dominator valve guitar amp
Decca DC100 50's valve amp
Trace Elliot bass amp
Sansamp Classic
EHX Small Stone
EHX Electric Mistress
EHX Big Muff (80's Russian green)
EHX Memory Man
EHX Poly Chorus
Boss DD3 delay "blue label"
Boss HM2 "Heavy Metal"
plus lots of other pedals!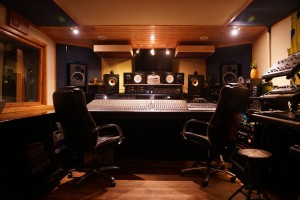 Services
Recording
Mixing
Writing Room
Recording of Live Events – from our upstairs venue space
Production
Media Transfer –  quarter-inch tape to digital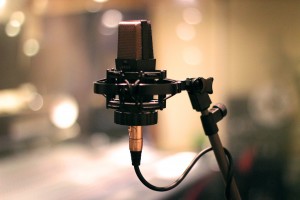 Floor Plan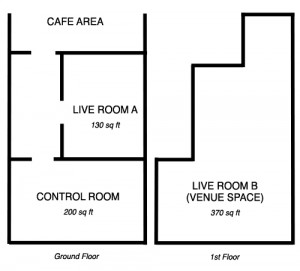 Rates:
£40 per hour
£250 full-day
All rates are inclusive of engineer and include use of all instruments, equipment and backline. 
A full-day is based roughly on 8 hours with some leeway for set-up time, breaks and getting the job done!
Discounts available on longer periods. Please get in touch to discuss.
Studio users are entitled to a complimentary tea or coffee from our cafe.
Contact: Duncan (engineer/studio manager)
maprecordingstudio@gmail.com
+44 (0) 7960 240 216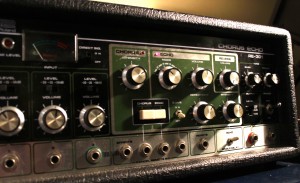 Clients
Skip Mcdonald, Roots Manuva, Miss Dynamite, Dawn Penn, Lava La Rue, Kawala, Adamski, Jah Wobble, Yungun, Michael Rose
N-Dubs, Sizzla, Goldie, Omar, Aswad, Junior Delgado,
The Ordinary Boys, The Beat, The Specials, Sam Lee,
Ruth Theodore, Dark Horses, Weird Weather, Anoushka Lucas, Rhosyn, Dorian Ford, Skinnyman, Raie, Ricky Rankin, Vlad Miller, Tony Rhone, John Etheridge, Christian Brewer,
Bukky Leo, James Lascelles, Jimmy Screech, Alexander Nilere,
Carol Grimes, Nina Hatchwell, Jehane Markham, Leon Greening, Alec Dankworth, Tymon Dogg, Jazzmo-thology, Tohnino Crespo, Winston Clifford, Cold Fever, General Wayne, Barry Ford, Don-E, Michael Storie, Kate Daniels, Zeeteah Massiah, Lee Stone,
Damon Brown, BNDR, Warner Music, Vice TV, EMI, BT Sport