Female Voices Cinema Season presents
Derek Jarman's 'Jubilee'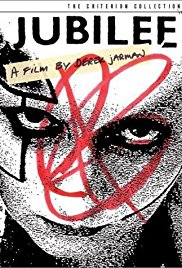 Jarman's provocative account of the punk movement is both prophetic and apocalyptic. Queen Elizabeth I and her occult aide Dr John Dee (brilliantly played by Jenny Runacre and Richard O'Brien, respectively) travel into the future, encountering the megalomania of big business as well as gangs of violent, marauding killers. Jarman is hitting his stride here – and doesn't spare the shocks – while electrifying punk rock numbers are abrasively delivered by Jayne County and Adam Ant. The mythological past and bleak future converge on the sparse, grey streets of London.
Dir. Derek Jarman / Date: 1978 / Dur: 1h 02min / Cert 18 Trailer 
YouTube Trailer
The Telegraph
Financial Times
Criterion 
Sunday 25th March 2018 / Price: £7 / Time: 4pm
Please buy tickets at this link
We recommend arriving by 3.30pm to guarantee a place as seating is limited.
Admittance will not be allowed after the film has started. Reservations will be held only until 3.55pm! ***Female Voices Cinema Season***
Screening films about women, through the perspectives of women and in celebration of women. Stay tuned for further announcements.