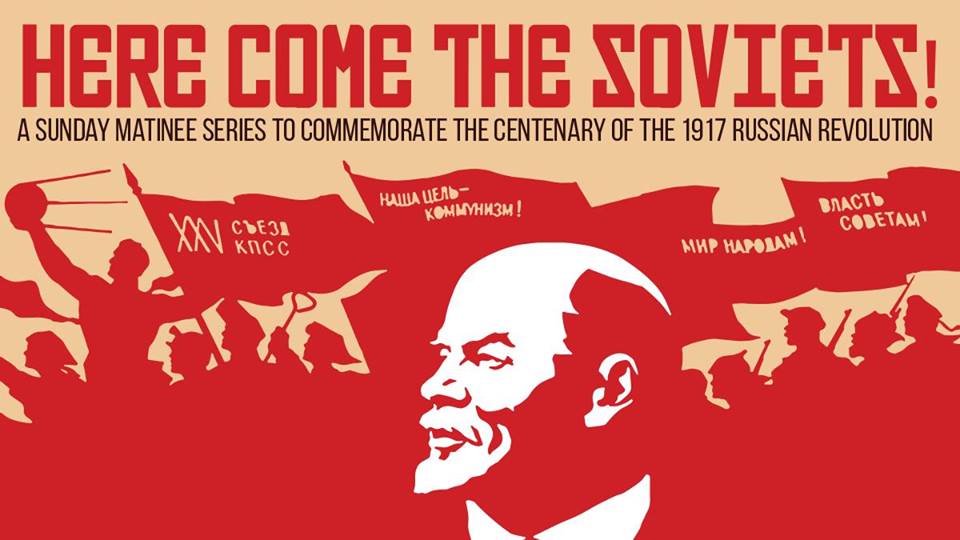 Soviet Cinema: Ninotchka
Sunday, October 22nd.  4pm
In order to commemorate the 100th anniversary of the 1917 Russian Revolution we ran a season of Soviet made or themed films in the first half of this year. Due to its remarkable success we are bringing back the Soviet Cinema Season for a second run with new films, from September to December.
We've selected four highly acclaimed films to celebrate this monumental anniversary of one of the most important and seismic events in modern history.
Films will be preceded with a short introduction by:
Dr Louis Bayman,
Lecturer in Film Studies at University of Southampton.
* * * * * * * * * * * * * * * * * * * * *
Soviet Cinema Season two continues with Elem Klimov's Ninotchka.
Directors: Ernst Lubitsch
Date: 1939
Duration: 111 mins
Format: Black and White, Russian with English subtitles
Directed by master farceur Ernst Lubitsch and starring Greta Garbo, the film opens in Paris during the aftermath of the Russian revolution. A trio of Russian delegates (Sig Rumann, Felix Bressart, and Alexander Granach) are sent to Paris to sell the Imperial Jewels for ready cash. Grand Duchess Swana (Ina Claire), who once owned the jewels, sends her boyfriend Count Leon (Melvyn Douglas) to retrieve the diamonds, and he turns the trio into full-fledged capitalists, wining and dining them all through Paris. Moscow then dispatches the humorless, doggedly loyal Comrade Ninotchka (Garbo) to retrieve both the prodigal Soviets and the gems. When Leon turns his charm on Ninotchka, she regards him coldly, informing him that love is merely a "chemical reaction." Even his kisses fail to weaken her resolve. Leon finally wins her over by taking an accidental fall in a restaurant, whereupon Ninotchka laughs for the first time in her life. She goes on a shopping spree and gets drunk, while Leon begins falling in love with her in earnest. As a bonus to the frothy script, by Billy Wilder and others, and its surefire star power, Ninotchka features what is perhaps Bela Lugosi's most likeable and relaxed performance.
* * * * * * * * * * * * * * * * * * * * *
Tickets are £4 and sold on the door. The film starts at 4pm.
We recommend arriving by 3.30 to guarantee a place as seating is limited.
Admittance will not be allowed after the film has started.
Reservations can be made in advance by emailing us on Facebook.
Reservations will be held only until 4pm