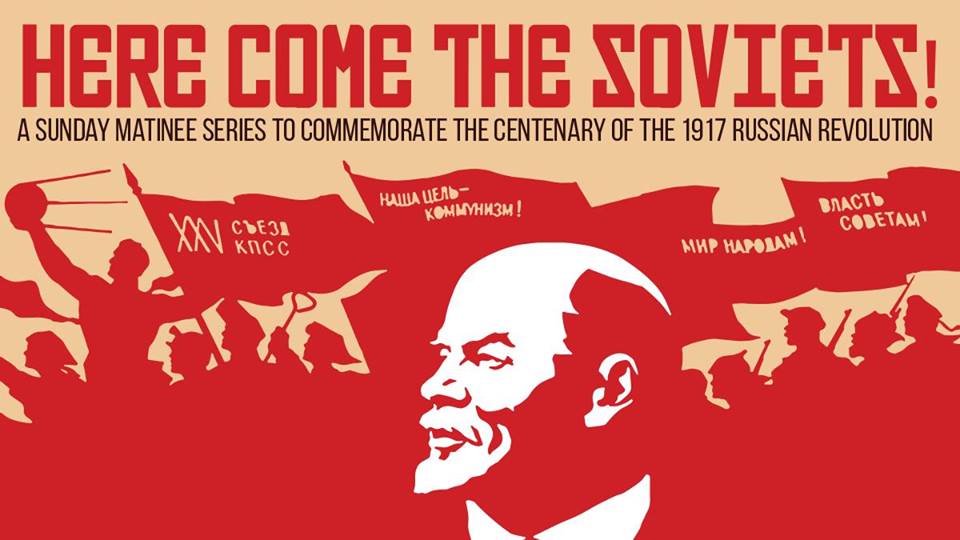 Sunday, December 10th 4pm
 The Soviet Cinema Season programme of Soviet made or themed films commemorates the 100th anniversary of the 1917 Russian Revolution.
We've selected four highly acclaimed films to celebrate this monumental anniversary of one of the most important and seismic events in modern history.
 Films will be preceded with a short introduction by:
Dr Louis Bayman,
Lecturer in Film Studies at University of Southampton.
 * * * * * * * * * * * * * * * * * * * * *
Soviet Cinema Season concludes with Wolfgang Becker's Good Bye Lenin!
Directors: Wolfgang Becker
Date: 2003
Duration: 118 mins
Format: Colour, English language
It is October 1989, right before the fall of the Berlin Wall and a dedicated young German boy, Alex Kerner (Daniel Brühl), pulls off an elaborate scheme to keep his mother in good health in this comedy drama. When the mother, Christiane (Kathrin Sass), a loyal party member, sees Alex participating in an anti-communist rally, she suffers a heart attack and remains comatose through the fall of the Berlin wall and the German Democratic Republic. Knowing that the slightest shock could prove fatal upon his mother's awakening, Alex goes to great lengths to pretend communism still reigns in Berlin and strives to keep the fall of the GDR a secret for as long as possible. Keeping their apartment firmly rooted in the past, Alex's scheme works for a while, but it's not long before his mother is feeling better and ready to get up and around again.
* * * * * * * * * * * * * * * * * * * * *
Tickets are £4 and sold on the door. The film starts at 4pm. We recommend arriving by 3.30 to guarantee a place as seating is limited.
 Admittance will not be allowed after the film has started.
Reservations can be made in advance by emailing us on Facebook.
Reservations will be held only until 4pm