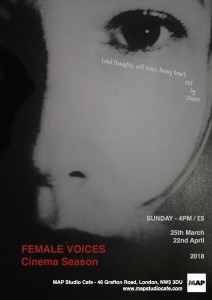 Female Voices Cinema Season presents 
'Daisies'
Maybe the New Wave's most anarchic entry, Věra Chytilová's absurdist farce follows the misadventures of two brash young women. Believing the world to be "spoiled," they embark on a series of pranks in which nothing—food, clothes, men, war—is taken seriously. Daisies is an aesthetically and politically adventurous film that's widely considered one of the great works of feminist cinema.
Dir. Vera Chytilová / Date: 1966 / Dur: 1h 14min
Trailer
The New York Times Review
Another Magazine
Criterion
Sunday 22nd April 2018 / Price: £7 / Time: 4pm
Please buy tickets at this link
We recommend arriving by 3.30pm to guarantee a place as seating is limited.
Admittance will not be allowed after the film has started.
Reservations will be held only until 3.55pm
***Female Voices Cinema Season***
Screening films about women, through the perspectives of women and in celebration of women.
Stay tuned for further announcements.