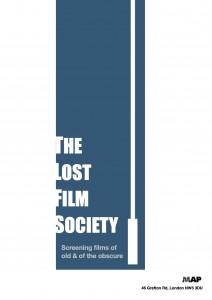 24th Blackmail, 7pm – £3/4
Alfred Hitchcock's first sound film utilized the new sound technology in a rather creative way off-camera. Hitchcock's lead actress, Anny Ondra, had a strong Eastern European accent that was difficult for English audiences to understand, so Hitchcock's solution was to have British actress Joan Barry speak Ondra's lines of dialogue off-camera. The film concerns a woman who kills a man who tries to assault her. Ondra plays Alice White who, while having dinner in a fancy English nightspot with her husband-to-be Scotland Yard Detective Frank Webber (John Longden), begins to flirt with an artist (Cyril Richard) seated at the next table. The artist invites her up to see his studio, and she goes but balks when the artist asks her to pose in the nude. When the request becomes a demand, Alice stabs him to death. She rejoins her fiancé and tries to forget the murder, but her conscience keeps bothering her. To make matters worse, snivelling rat Tracy (Donald Calthrop) materialises to blackmail Alice for the crime.
Dir. Alfred Hitchcock / Date: 1929 / Dur: 1h 25min
Every fourth film is free with a loyalty card. Seating is limited. We strongly recommend arriving by 6.30 pm. Reservations can be made by emailing us on Facebook. Reservations are honoured upon receipt of a reply and will only be held 7.00 pm on the day.
Admittance will not be allowed after the film has started.